Manassas To Receive Award For Neighborhood Revitalization
Here is the press release the City just sent out in a friendlier format -and photos attached if you want to use them on your website/social mediasites. A document with photo IDs attached. Photos by Linda Hughes.
CITY OF MANASSAS TO RECEIVE VML PRESIDENT'S AWARD FOR NEIGHBORHOOD REVITALIZATION PROJECTS
Manassas, VA (Sept 2, 2011) - The Virginia Municipal League (VML) has notified the City of Manassas that the unicipality will be awarded the VML President's Award 2011 for its Neighborhood Services revitalizationprojects, including 1 By Youth, Week of Hope and Neighborhood Improvement Circles.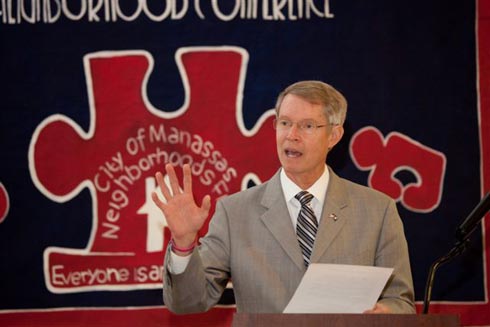 Neighborhood Conf-10.
---
The VML President's Award is the most prestigious award given by the Virginia Municipal League, recognizing the best of all candidates nominated in VML's annual achievement awards competition. The award recognizes innovative problem-solving, excellence in management, increasing citizen participation, and reaching toward higher service levels. Past winners include the City of Galax (2010), Virginia Beach (2009 and 2008), Roanoke County (2007), Culpeper (2006) and Chesterfield County (2005).
In making the notification, the award judges commented that the neighborhood development and volunteerism described in Manassas is a model for the future of sustainable community and citizen led neighborhood improvement. It isthrough this public recognition that all Virginia governments can share and learn from these achievements.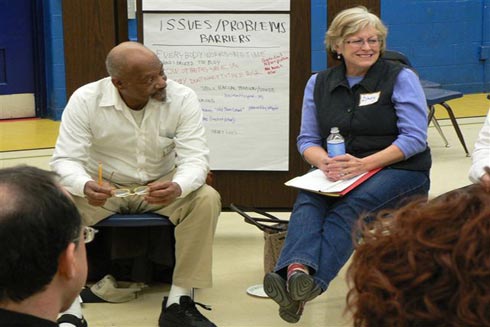 Improvement Circle-09.
---
"This is local government of the future: partners, mentors, facilitators.even cheerleaders to emerging community leaders," said City Manager Lawrence D. Hughes. "Our Council has cut $3 million, five departments and the equivalent of 20 full-time positions to balance the budget. We need residents who are themselves engaged in revitalizing their own neighborhoods."
"The Neighborhood Services Program has added a new dimension to the City government," said Mayor Harry J. "Hal" Parrish II. "The staff engaged neighbors, volunteers and nearly every department of the City government inour neighborhood improvement effort."
Neighborhood Services Manager Kisha Wilson-Sogunro, an AmeriCorps alumna from Maryland and Utah, has led the charge in making City government a catalyst and partner for change. Sogunro has engaged residents in innovative Neighborhood Improvement Circles, moved them to action with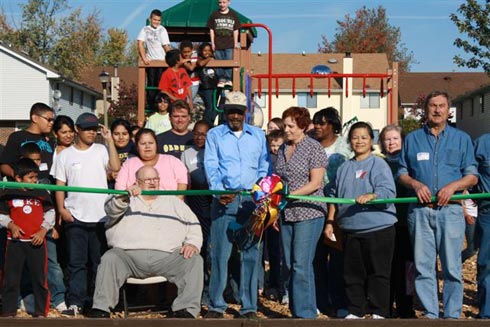 Action After Circle-10.
---
mobile, ready-to-go volunteer "strike units" of the summer Week of Hope program and sent the "shock and awe" of 600 volunteers into one neighborhood for one day with the massive 1 By Youth projects of Georgetown South (2010)and Point of Woods (2011).
"Kisha and her volunteers seem to be everywhere in the City at the same time," the Mayor said. "And, everywhere they go, they leave a trail of successful neighborhood projects."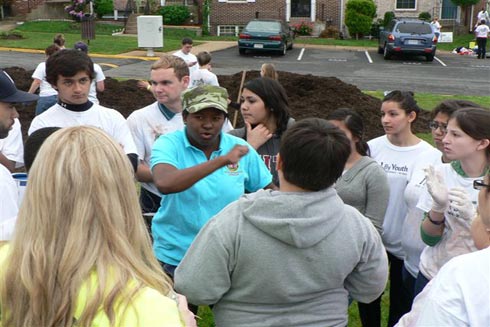 By-Youth11-POW.
---
"Our role is to meet people where they live and show them how to use their own relationships and resources to make their communities better," said Sogunro. Many business and nonprofit partners helped in the neighborhoodrevitalization efforts, from Habitat for Humanity, Mike Garcia Construction, Lockheed Martin, Lowes, Walgreens and Sherwin Williams, to Manassas Assembly of God, Manassas Baptist, Manassas St. Thomas UMC and Evergreen CommunityChurch, among others.
"Once you've engaged the community, there's no going back," said Sogunro. "People still call with complaints. But more and more, they are stopping in or calling to ask, 'when's your next project?' and 'what can I do to help?'In Manassas, we're committed to growing this movement of change, year after year, one neighborhood at a time."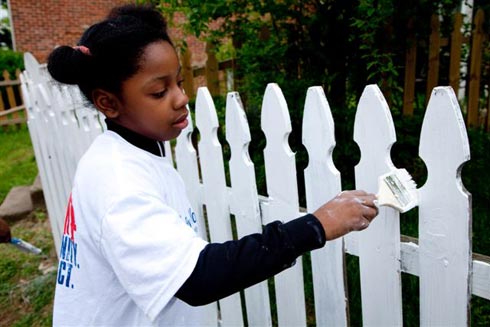 By Youth 10 GTS.
---
The City of Manassas will be featured on the cover of a fall issue of Virginia Town & City, the magazine of the Virginia Municipal League. The VML is a statewide, nonprofit, nonpartisan association of city, town and countygovernments established in 1905 to improve and assist local governments through legislative advocacy, research, education and other services. The membership includes all 39 cities in the state, 156 towns and 10 counties.
The President's Award will be presented to City of Manassas officials at the VML Conference Banquet, Tuesday, October 4, 2011 at the Ramada Plaza Richmond West in Henrico County, Virginia.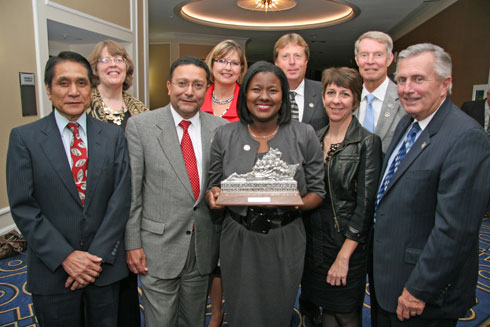 From left, Round Community resident Robert Punihaole, Weems Community resident Cindy Brookshire, Baldwin Community resident Jose Paiz, Council Member Sheryl Bass, Neighborhood Services Manager Kisha Wilson-Sogunro (holding award), Mark Olsen, President, Historic Manassas, Inc. and Owner of Olde Towne Landscaping; Traci DeGroat, Executive Director of Habitat for Humanity, Prince William County, Manassas and Manassas Park; Manassas Mayor Harry J. Parrish II and City Manager Lawrence D. Hughes.
---
Have a comment about a Prince William County Story?

Do you have a comment or question about Prince William County, Virginia? If you submit it here, other visitors can read it; answer it; learn from it, or otherwise comment on it. An e-mail address is not required.

---
Montclair and Manassas Park Named to CNN/Money Magazine's 2011'Manassas Got Talent' is June 10 |Manassas Youth Project | Apple Federal Credit Union | Childrens Farm | City Center of Manassas Park | Community Appearance Alliance Award | ECPI College of Technology & Medical Careers Institute School of Heath Science | Huge Georgetown South Community Service Project | Jewell Technical Consulting (JTC), Inc. | July 4th HMI City of Manassas | Kehoe Shares 'Midwives for Haiti' Trip with Doulas | Langston Law Firm | Manassas Battlefield Park | Manassas National Battlefield Park | Manassas Wins State Award | Old Dominion Speedway | Prince William County Fair |
---
From Manassas To Receive Award For Neighborhood Revitalization to Manassas | Prince William County Virginia Blog | Dale City | Dumfries | Lake Ridge | Gainesville | Montclair Virginia | Occoquan | Quantico | Woodbridge | Prince William County Schools | Prince William County Fire & Police | Prince William County Libraries | Prince William County Animal Services | Prince William County Doctors | Prince William County Dentists | Prince William County Lawyers | Prince William County Realtors | Prince William County Insurance Agents | Prince William County Financial Planner | Prince William County Nursing HomesPrince William County Car Repair | Prince William County Shopping | Prince William County Restaurants | Prince William County Entertainment | Prince William County Recreation | Prince William County Churches | Prince William County Commute | Prince William County Washington D.C. | Top 10 Things to Do in Prince William County | Prince William County Forum | Prince William County Virginia News | Prince William County Questions |
---
Home Page

About Us | Contact Us | Advertise | Site Search | Terms of Use |
---