MANASSAS, VA–The City of Manassas has won "State Neighborhood Youth Effort of the Year" for the national pilot 1 By Youth project that took place on April 24, 2010 in the Georgetown South neighborhood.

Christen Zenich, City of Manassas Neighborhood Coordinator, accepted the award on behalf of a community partnership at the 11th Annual Virginia Statewide Neighborhood Conference in Roanoke, Virginia on September 25.
The partnership included Colorado-based Group Cares, Mike Garcia Construction, Habitat for Humanity of Prince William County, the Boys & Girls Club, Manassas Assembly of God and Unity in the Community. More than 1,000 teen and adult volunteers from three states participated in the massive one day, one community, one impact neighborhood revitalization project. Nearly 60 Manassas area sponsors contributed to the project including Lowe's, 84 Lumber, Summit Construction, Sherwin-Williams, Chadwick, Washington, Moriarty, Elmore & Bunn, E.E. Wine, TruGreen LandCare, Virginia Contractors Supply, Vulcan Materials-Manassas Quarry, J.E. Rice True Value Hardware and Walgreens.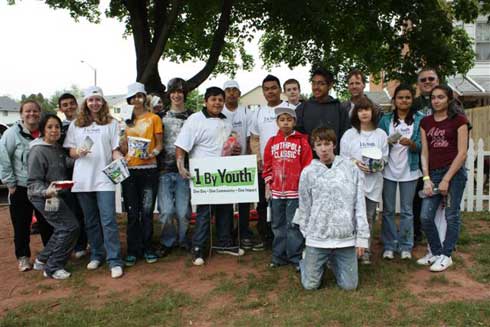 Thanks to Lynn Grizzard, student, Northern Virginia Community College for the picture.
---

Volunteers painted fences, built soft-fill pathways and re-mulched playgrounds in the 45-year-old neighborhood of 860 townhomes, one of several walkable communities that surround historic Old Town Manassas.

Georgetown South has continued to engage residents by training Neighborhood Watch members, strengthening alternatives for youth and working with volunteers to paint front fences and rebuild the L Green playground. On Nov. 6 the community plans to cut the ribbon on a new outdoor pavilion on the H Green, thanks to generous donations from Mike Garcia Construction, Summit Construction, 84 Lumber and Lazlo Concrete.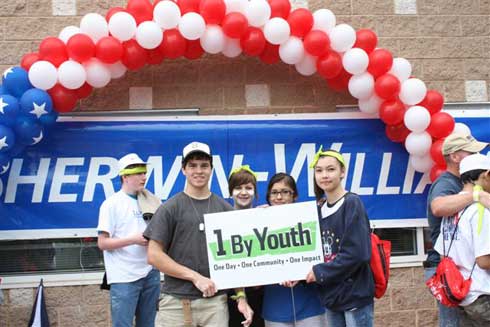 Thanks to Lynn Grizzard, student, Northern Virginia Community College for the picture.
---

"Without 1 By Youth Manassas, I have no doubt these results would not have been possible," said Christie Strader, Community Manager, Georgetown South Community Council, Inc. "The intense preparation for that day and the community meetings that V.O.I.C.E. [Virginians Organized for Interfaith Community Engagement] facilitated to bring residents out in support of the revitalization took us all from zero to 60 mph in terms of networking, making connections and going beyond cosmetic changes to build community and set new standards."

The City of Manassas has already begun to work with Group Cares to bring 1 By Youth back again next year. The Point of Woods 1 & 2, and Point of Woods 3 neighborhoods have been selected as the site of 1 By Youth 2011 on May 14, 2011. Sponsors and volunteers are welcome. Contact Christen Zenich at 703-257-8315.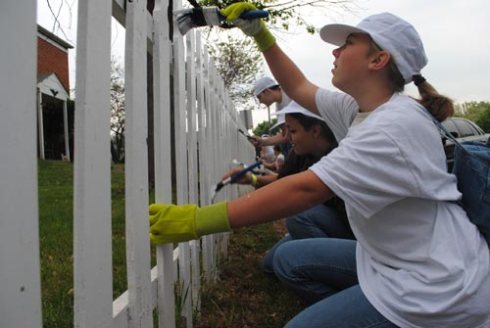 Thanks to Meghan Oakes, student, Osbourn High School for the picture.
---

The 1 By Youth Award is the tenth award the City of Manassas Neighborhood Services Department has garnered in the past three years at the state and national level.

The Virginia Statewide Neighborhood Conference, provides an opportunity for people from all locations, socio-economic levels, and sectors across the Commonwealth to learn best practices for addressing neighborhood issues of the times, attend workshops, network with one another, and share experiences and information toward building stronger communities. To learn more, visit www.vsnc.org.

The City will hold its own local neighborhood conference on Nov. 13 at the Boys & Girls Club. Registration is open through Nov. 10 at www.manassascity.org/neighconf.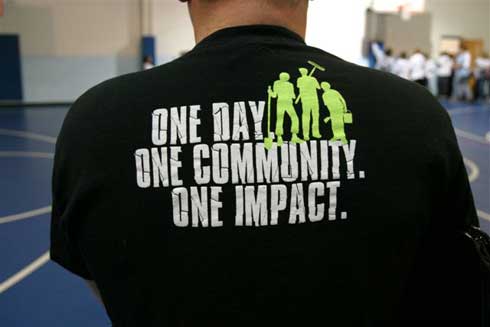 Thanks to Randy Donaldson, member, Trinity Episcopal Church for the picture.
---
Have a comment about a Prince William County Story?

Do you have a comment or question about Prince William County, Virginia? If you submit it here, other visitors can read it; answer it; learn from it, or otherwise comment on it. An e-mail address is not required.

---
Apple Federal Credit Union | Childrens Farm | City Center of Manassas Park | ECPI College of Technology & Medical Careers Institute School of Heath Science | Huge Georgetown South Community Service Project | Jewell Technical Consulting (JTC), Inc. | July 4th HMI City of Manassas | Langston Law Firm | Manassas Battlefield Park | Manassas National Battlefield Park | Old Dominion Speedway | Prince William County Fair |
---
From Manassas Wins State Award to Manassas | Prince William County Virginia Blog | Dale City | Dumfries | Lake Ridge | Gainesville | Montclair Virginia | Occoquan | Quantico | Woodbridge | Prince William County Schools | Prince William County Fire & Police | Prince William County Libraries | Prince William County Animal Services | Prince William County Doctors | Prince William County Dentists | Prince William County Lawyers | Prince William County Realtors | Prince William County Insurance Agents | Prince William County Financial Planner | Prince William County Nursing HomesPrince William County Car Repair | Prince William County Shopping | Prince William County Restaurants | Prince William County Entertainment | Prince William County Recreation | Prince William County Churches | Prince William County Commute | Prince William County Washington D.C. | Top 10 Things to Do in Prince William County | Prince William County Forum | Prince William County Virginia News | Prince William County Questions |
---
Home Page

About Us | Contact Us | Site Search | Terms of Use |
---