Gillie Kehoe was the featured speaker at the monthly meeting of the Manassas Midwifery Volunteer Doula Group on March 24. Gillie shared stories and pictures from her recent two-week trip to Hinche, Haiti with the non-profit group, Midwives for Haiti.
Gillie is a nurse in the newborn nursery at Prince William Hospital, as well as a student nurse midwife at the Frontier School of Midwifery and Family Nursing. A native of Warrenton, Gillie combines nursing and travel, every chance she has. She worked as a public health volunteer in Kenya with the Peace Corps in 2007 and later, as a travel nurse in several Los Angeles area newborn intensive care nurseries.

In Haiti, Gillie worked alongside Haitian midwifery students in the classroom, mobile clinics and hospital where skills that have been proven to save lives in developing countries are being taught to the students in real world situations.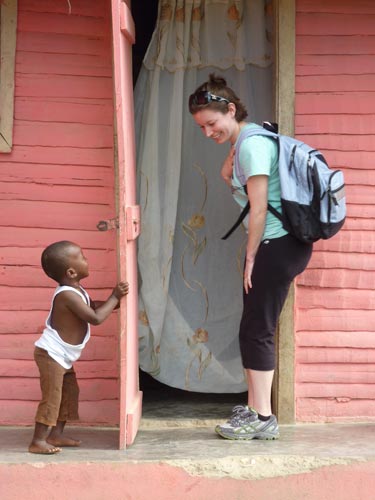 Gillie Kehoe in Haiti.
---

Currently, in Haiti, 76% of all deliveries are done by non-qualified persons, contributing to the highest infant and maternal mortality in the western hemisphere. The mission of Midwives for Haiti is "to teach women of Haiti preventive care and life-saving skills that they can provide to rural Haitian women during the childbearing years." Through partnerships with other organizations in Haiti and across the world, employment opportunities are being created for the new midwives, as they provide skilled care to women in local villages to help safeguard pregnancy, labor, birth and the newborn baby's early days and weeks of life. Thus, in time, infant and maternal mortality rates will decline while families and communities in Haiti will be strengthened.

For more information about Midwives for Haiti, or to contribute to further their work, visit the website at www.midwivesforhaiti.org. For more information about the Manassas Midwifery Volunteer Doula Group, visit www.manassasmidwifery.com or call 703-330-3285.
Have a comment about a Prince William County Story?

Do you have a comment or question about Prince William County, Virginia? If you submit it here, other visitors can read it; answer it; learn from it, or otherwise comment on it. An e-mail address is not required.

---
Apple Federal Credit Union | Childrens Farm | City Center of Manassas Park | ECPI College of Technology & Medical Careers Institute School of Heath Science | Huge Georgetown South Community Service Project | Jewell Technical Consulting (JTC), Inc. | July 4th HMI City of Manassas | Langston Law Firm | Manassas Battlefield Park | Manassas National Battlefield Park | Manassas Wins State Award | Old Dominion Speedway | Prince William County Fair |
---
From Kehoe Shares 'Midwives for Haiti' Trip with Doulas to Manassas | Prince William County Virginia Blog | Dale City | Dumfries | Lake Ridge | Gainesville | Montclair Virginia | Occoquan | Quantico | Woodbridge | Prince William County Schools | Prince William County Fire & Police | Prince William County Libraries | Prince William County Animal Services | Prince William County Doctors | Prince William County Dentists | Prince William County Lawyers | Prince William County Realtors | Prince William County Insurance Agents | Prince William County Financial Planner | Prince William County Nursing HomesPrince William County Car Repair | Prince William County Shopping | Prince William County Restaurants | Prince William County Entertainment | Prince William County Recreation | Prince William County Churches | Prince William County Commute | Prince William County Washington D.C. | Top 10 Things to Do in Prince William County | Prince William County Forum | Prince William County Virginia News | Prince William County Questions |
---
Home Page

About Us | Contact Us | Advertise | Site Search | Terms of Use |
---