Send a Kid to Summer Camp


Boys & Girls Club 'Send A Kid to Camp' Campaign Launches March 1, 2012
On March 1, 2012, the Prince William County/Manassas Branches of the Boys & Girls Clubs of Greater Washington are kicking off their local "Send A Kid to Camp" campaign for the next 100 days. The three clubs, located in Dale City, Dumfries and Manassas, hope to raise $40,000 for camper scholarships by June 7, 2012.
All three clubs will offer various programming for ages 5 – 17 that cover Sports, Youth and Teen Camps. All camps will take place the months of June through August. The Club's programs reflect their FORMULA FOR IMPACT; a personalized formula that assists members in achieving personal growth in academic success, good character & citizenship and healthy lifestyles by mixing in key elements of outcome-focused initiatives.
While a $150 donation may mean a 100% scholarship for one child for one week of camp, club officials plan to stretch donations even further by offering partial scholarships of 25%, 50% and 75% to families who meet the challenge of raising the rest. That means even more children and youth will be afforded the opportunity to attend camp.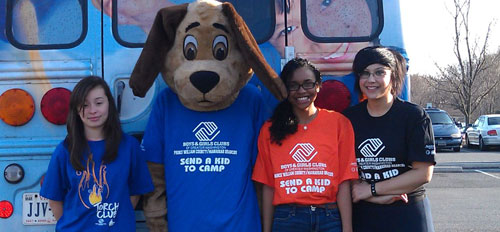 From left, Nicole McIntyre, CHASE, Alexa Locke and Angie Torres
---
"For some parents, $25 to $75 is the difference between their child being apart of the summer camp experience or being unsupervised at home," says Boys & Girls Club Regional Director, Glenn Vickers. "Generous donations will fill that gap, and 100 percent of the funds raised over the next 100 days will go directly to the youth of the Greater Prince William County region who attend the clubs. Our motto is 'great futures start here' and your involvement will help that come true."
All scholarships are based on need and are processed on a first come, first served basis. Priority is given to new applicants.
CHASE, the Prince William County/Manassas Boys & Girls Clubs' new large and friendly dog mascot, is the face of the Send A Kid to Camp Campaign.
"He's an acronym for our five core program areas," explains Keeyana Mahoney, Regional Director alongside Vickers. "CHASE stands for Character and Leadership (C), Healthy Life Skills (H), the Arts (A), Sports and Recreation (S) and Education and Career Development (E)."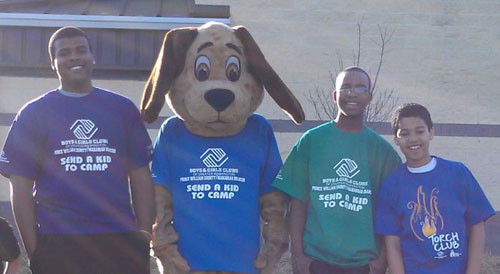 Thanks to Lynn Grizzard, student, Northern Virginia Community College for the picture.
---
For more information, Open Houses are scheduled on Wed., March 14 from 5-7 pm and Sat., March 31 from 11 am to 1 pm at all three club locations: Manassas Club, 9501 Dean Park Lane; Hylton Club, 5070 Dale Blvd., Dale City; and General Heiser Club, 17565 Old Stage Coach Road, Dumfries. Visit www.bgcprincewilliam.org for application forms.
If you'd like CHASE to visit your school or community event, contact Glenn Vickers at 703-365-2582, ext. 231 or gvickers@bgcgw.org.

Have a comment about a Prince William County Story?

Do you have a comment or question about Prince William County, Virginia? If you submit it here, other visitors can read it; answer it; learn from it, or otherwise comment on it. An e-mail address is not required.

---
Dale City Commuter Lot Clean Up | Dale City Neighborhood Pride Week 2010 | Dale City Elementary School | Dale City Neighborhood Library | Dale City Volunteer Fire Department | National Museum of Americans in Wartime | Sharron Baucom Dale City Recreation Center |
---
From Send a Kid to Summer Camp to Dale City | Prince William County Virginia Blog | Dumfries | Gainesville | Lake Ridge | Manassas | Montclair Virginia | Occoquan | Quantico | Woodbridge | Prince William County Schools | Prince William County Fire & Police | Prince William County Libraries | Prince William County Animal Services | Prince William County Doctors | Prince William County Dentists | Prince William County Lawyers | Prince William County Realtors | Prince William County Insurance Agents | Prince William County Financial Planner | Prince William County Nursing Homes | Prince William County Car Repair Shops | Prince William County Shopping | Prince William County Restaurants | Prince William County Entertainment | Prince William County Recreation | Prince William County Churches | Prince William County Commute | Prince William County Washington D.C. Trip | Top 10 Things to Do in Prince William County | Prince William County Forum | Prince William County Blogs | Prince William County Virginia News | Prince William County Questions |
---
Home Page

About Us | Contact Us | Site Search | Terms of Use |
---