Dale City Neighborhood Pride Week 2010

Last year, an initiative was born from the PWC Neighborhood Leaders Group. We called it Neighborhood Pride Week, and determined our mission to clean up the two and a half mile section of Dale Boulevard that is the parade route. That initiative was so successful we decide to repeat the action.
Neighborhood Pride 2010 became the summer focus of the DCCA/CRB. Connie Moser worked to obtain additional volunteers through Jay Willer, Week of Hope coordinator.

These volunteers, from the Group Workcamps Foundation, are teenagers who provide hands-on services to individuals, families and communities. Each week, new campers arrive and are dispatched to locations in the area to help grow their faith through service.

There were 12 volunteers from the Week of Hope the first week and 16 volunteers the second week. These young people and their adult leaders worked with our committee to accomplish some of the hardest and dirtiest jobs. Together, we trimmed all the shrubs, weeded the planting beds, and dug grass from the sidewalks and the edges of the (huge) commuter lot at Dale Boulevard and Gemini Way.

That commuter lot is the end point of the parade and many visitors attend Family Fun Day, so we wanted the lot to look well cared for, just like the streets and curbs along the parade route. The Week of Hope volunteers worked hard to achieve that appearance.

We tackled a couple of projects for the Clean Community Council; labeling storm drains in the Lindendale and Forestdale communities and a cleanup of a marshy area behind a church in Woodbridge that yielded 105 tires and a truckload of concrete on one of the hottest days of the year. The teens and leaders also picked up litter from the medians along the parade route, and painted fences and a concrete barrier along Minnieville Road.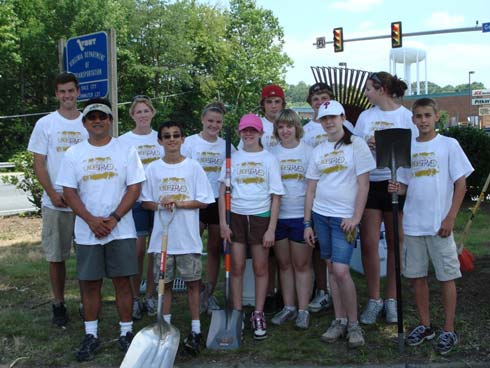 Names, left to right.
Front row:
John Quinn (Leader), Christian Quinn, Kayla Gobber, Emily Larson, Katie Mullen.
Back Row:
Stephen Anderson, (Leader), Bonnie Crawford, Jaime Brown, Jacob Wagner, Ethan Steward, Sheena Larsen, Justin Underwood.
---

The Neighborhood Pride committee enlisted the help of Phi Beta Sigma, Omicron Zeta Sigma Alumni Chapter. OZS was the only group of volunteers, outside our own committee and family members, to return for a second year.

Neighborhood Pride would like to thank the PW Clean Community Council for providing paint and rollers. We thank VDOT (Jimmy Simmons and Dave Brown) for the use of traffic cones and picking up the bags from the commuter lot and PWC Public Works Litter Crew, (especially Ed Wheeling) for donating trash bags and picking them up multiple days as we stacked them along Dale Boulevard.

We also thank the residents of Dale Boulevard who made such a difference in our community and all the other volunteers we were able to coax out there to help us. Our cumulative efforts were a total of 466.5 work hours spread among 53 unique volunteers.

You can find photos from Neighborhood Pride on the DCCA website: http://sites.google.com/site/dccawebsite/

Together, we all made Dale City shine.

Here's what we said before the 2010 Dale City Neighborhood Pride Week.
Have a comment about a Prince William County Story?

Do you have a comment or question about Prince William County, Virginia? If you submit it here, other visitors can read it; answer it; learn from it, or otherwise comment on it. An e-mail address is not required.

---
Dale City Commuter Lot Clean Up | Dale City Elementary School | Dale City Neighborhood Library | Dale City Volunteer Fire Department | National Museum of Americans in Wartime | Sharron Baucom Dale City Recreation Center |
---
From Dale City Neighborhood Pride Week 2010 to Dale City | Prince William County Virginia Blog | Dumfries | Gainesville | Lake Ridge | Manassas | Montclair Virginia | Occoquan | Quantico | Woodbridge | Prince William County Schools | Prince William County Fire & Police | Prince William County Libraries | Prince William County Animal Services | Prince William County Doctors | Prince William County Dentists | Prince William County Lawyers | Prince William County Realtors | Prince William County Insurance Agents | Prince William County Financial Planner | Prince William County Nursing Homes | Prince William County Car Repair Shops | Prince William County Shopping | Prince William County Restaurants | Prince William County Entertainment | Prince William County Recreation | Prince William County Churches | Prince William County Commute | Prince William County Washington D.C. Trip | Top 10 Things to Do in Prince William County | Prince William County Forum | Prince William County Blogs | Prince William County Virginia News | Prince William County Questions |
---
Home Page

About Us | Contact Us | Site Search | Terms of Use |
---