Former Woodbridge Resident Making It In Music Industry


FOR IMMEDIATE RELEASE | OCTOBER 5, 2011
KEIA JOHNSON PREMIERES 'SMEARED MAKEUP' VIDEO

MEMPHIS, TN – For Keia Johnson, once again, it's TIME.
It's not just the title of her debut EP, released this summer. It's also the attitude the singer is taking about her career – take one look at her calendar and you'd know that this is a woman who means business. And the first order? Releasing her debut music video, for the single "Smeared Makeup."
Produced by Memphis filmmaker Isaiah Conyers, the video promises to be boldly colorful, explosively emotional and signature Keia. Conyers has previously worked with Lord T & Eloise, Yung Soul, C-Cren and a host of up-and-coming Memphis artists, and is tentatively set to work with Keia again on the EP's second video release, slated for later this fall.
But before the business continues, Keia will take a pause to celebrate the milestone with a premiere event at South of Beale the night before the official release. Guests will get to see the video before the public, and they'll enjoy sipping on the evening's signature cocktail: a colorful concoction called The Smeared Makeup.
WHAT : Official Premiere Party for "Smeared Makeup" Video
WHEN : Monday, October 17 | 7 to 9 p.m.
WHERE : South of Beale, 361 S. Main Street
About Keia
Keia was singing before she knew how to form sentences. Being a military child, she started at a very young age learning how to perform and adapt to her environment.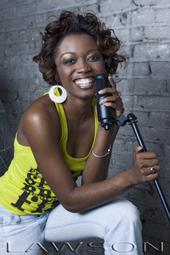 The woman before you today is a professional singer, entertainer, songwriter, and dancer. From years of formal training to learning on the spot, Keia has developed a unique way of captivating an audience and pulling them into her world.
With a high impact sultry performance, she has the ability to transform any gathering into a party. Working through RAM Entertainment has given her the opportunity to perform genres ranging from country to soul, rock to R&B, and jazz to contemporary along with two distinguished mid-south bands. Keia's heart lies as a solo artist and performer.
If you ever have the opportunity to witness her performance, she will be sure to leave you wanting more. You can find out more about Keia at ContactKeia.com.
Keia graduated from Garfield Senior High. Here's some high points of her tenure there:
Graduated in 2000
Winner of the Prince William County Dr. Martin Luther King Oratorical Contest January 2000
SGA Treasurer 1999-2000
No. 1 Alto in the county; selected to attend All-State
Lead vocalist in the honors choir
Sang in Washington, D.C. at the Kennedy Center through the Dominants Show Choir (directed by Mrs. Debbie Moyers)
Member of high school's group "Eloquence" that sang at basketball games
Have a comment about a Prince William County Story?

Do you have a comment or question about Prince William County, Virginia? If you submit it here, other visitors can read it; answer it; learn from it, or otherwise comment on it. An e-mail address is not required.

---
Woodbridge Virginia Home Maintenance CompanyTodos Super Market Woodbridge, VA |Woodbridge Author Makes Good | Ashley Furniture Home Store | Cardinal Management Group, Inc. | Coqui Group, LLC | DeGrasse Dance Studio | Dixie Bones Restaurant Information | Larry's Hair Designers, INC | Leesylvania State Park | Potomac Mills | Potomac Nationals | SmarTek Systems, Inc | Woodbridge High School | Woodbridge Middle School |
---
From Former Woodbridge Resident Making It In Music Industry to Woodbridge | Prince William County Virginia Blog | Dale City | Dumfries | Gainesville | Lake Ridge | Manassas | Montclair Virginia | Occoquan | Quantico | Prince William County Schools | Prince William County Fire & Police | Prince William County Libraries | Prince William County Animal Services | Prince William County Doctors | Prince William County Dentists | Prince William County Lawyers | Prince William County Realtors | Prince William County Insurance Agents | Prince William County Financial Planner | Prince William County Nursing Homes | Prince William County Car Repair Shops | Prince William County Shopping | Prince William County Restaurants | Prince William County Entertainment | Prince William County Recreation | Prince William County Churches | Prince William County Commute | Prince William County Washington D.C. Trip | Top 10 Things to Do in Prince William County | Prince William County Forum | Prince William County Virginia News | Prince William County Questions |
---
Home Page

About Us | Contact Us | Site Search | Terms of Use |
---