Dixie Bones Restaurant Information


Location:
On the corner of Occoquan Road and Jefferson Davis Highway

Address:
13440 Occoquan Road
Woodbridge, Virginia 22191


Hours of Operation:
11am—9pm Every Day; Sunday Buffet 11am—3:30pm

Website: http://www.dixiebones.com

Description:

Dixie Bones was originally located on Head's in Washington D.C. When the lease there expired, Dixie Bones moved to Woodbridge, VA, and opened its current location on January 1, 1996. Owner Nelson Head and his family have been in the food business in the south for more than 100 years. Nelson is personally committed to continuing the family tradition by serving the "World's Best BBQ," and the best prepared side dishes, rolls, sauces and desserts.
All the food is made daily using only the finest ingredients. Dixie Bones does not cut corners by using generic brands and other cheap ingredients, nor do they take short cuts in the process of baking their pies and rolls. And last but not least, they don't use microwave ovens or buy food in cans. Dixie Bones cooks actually cut potatoes for potato salad, slice cabbage for coleslaw and pick collards to prepare the greens.

 They make real pit barbeque, using hickory wood to smoke the meat. No preservatives are used and it is not served swimming in sauce.

Dixie Bones serves pork shoulders, beef brisket (for you Westerners), chicken and St.- Louis-cut pork spareribs. The catfish (Mississippi farm raised) filets are breaded with cornmeal and other secret spices and fried to order.

 Every morning the bakers prepare pies, cobblers, brownies and bread pudding. For sandwich buns, they make dough, form the rolls (that are allowed to rise three times) and bake and slice the hundreds of dozens required. They also bake cornbread several times a day in cast iron skillets using fresh ground cornmeal from central Virginia.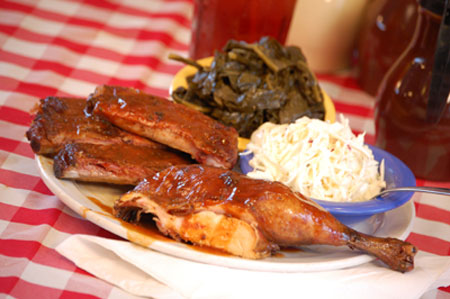 The only non-traditional thing that they have done is call the restaurant "Dixie Bones," rather than using their family name, the usual tradition in the south.

The Dixie Bones catering staff is available 7 days per week 9:00am—5:00pm. Contact them via telephone at 703-492-2205, or email them at catering@dixiebones.com. They will help plan your party and prepare a written quote detailing the food and service you will receive and how much it will cost. 

Dixie Bones takes pride in their homemade southern food and know you will be proud to serve it in your home or for any other special occasion.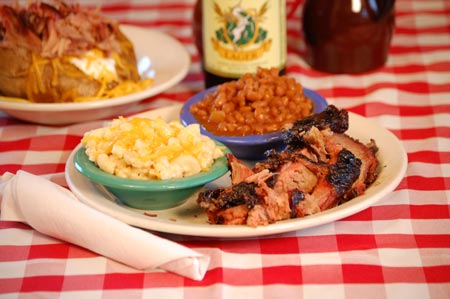 Whenever you need to feed 10-100 people, a BBQ Party Pak will give you plenty of food for the best price. Dixie Bones requires 48 hours notice and limits Party Paks to numbers divisible by 5. Your food will come in aluminum pans and packed in thermal boxes ready to pick up at the arranged time. For an additional charge you may have it delivered by courier. For deliveries there is a 1 hour window.

Dixie Bones, named one of the Top 100 Restaurants by Washingtonian magazine, is known for its signature real pit barbeque and family atmosphere. Named by the Washington Business Journal as one of the top 25 caterers in the Washington, D.C. metro area, Dixie Bones is also available to cater events and special occasions of any size. For additional information, visit www.dixiebones.com or call 703-492-2205.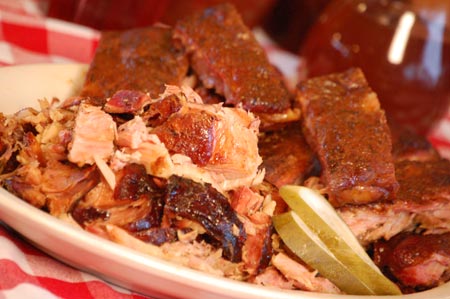 Directions:

Take Exit 160A when traveling from Fredericksburg North on 1-95.
Take Exit 161 when traveling from Washington South on 1-95. Exit 161 is a left exit from the interstate.
Dixie Bones Restaurant Information Map & Directions (click on marker for your personalized directions)
Please share your opinion about this restaurant or another PWC restaurant!

We'd love to hear your comments and/or opinions. If you submit them here, other visitors can read them, learn from them, rate them and comment on them. An e-mail address is not required.

---
Ashley Furniture Home Store | Cardinal Management Group, Inc. | Coqui Group, LLC | DeGrasse Dance Studio | Larry's Hair Designers, INC | Leesylvania State Park | Potomac Mills | Potomac Nationals | SmarTek Systems, Inc | Woodbridge High School | Woodbridge Middle School |
---
From Dixie Bones Restaurant Information to Woodbridge | Prince William County Virginia Blog | Dale City | Dumfries | Gainesville | Lake Ridge | Manassas | Montclair Virginia | Occoquan | Quantico | Prince William County Schools | Prince William County Fire & Police | Prince William County Libraries | Prince William County Animal Services | Prince William County Doctors | Prince William County Dentists | Prince William County Lawyers | Prince William County Realtors | Prince William County Insurance Agents | Prince William County Financial Planner | Prince William County Nursing Homes | Prince William County Car Repair Shops | Prince William County Shopping | Prince William County Restaurants | Prince William County Entertainment | Prince William County Recreation | Prince William County Churches | Prince William County Commute | Prince William County Washington D.C. Trip | Top 10 Things to Do in Prince William County | Prince William County Forum | Prince William County Virginia News | Prince William County Questions |
---
Home Page

About Us | Contact Us | Site Search | Terms of Use |
---