SmarTek Systems, Inc



SmarTek Systems, Inc.
SmarTek Systems manufactures non-embedded highway traffic detection products for traffic monitoring, vehicle detection, and traffic data analysis.
Several road side cabinet level monitoring, communication, and control devices are also manufactured to complete our integrated solution for traffic and weather reports. All of our products are designed with high reliability, low power budgets, and small foot-prints—ready to process traffic and weather information for our clients in a cost effective manner.
SVS-1 Video Detection for Intersection Traffic Signal Control.
The latest addition to the SmarTek Systems' family of non-embedded detector systems, this video detector lives up to its heritage of product quality and powerful processing in a small package for intersection signal control.
The SmarTek Systems SVS-1 delivers reliable stop line vehicle detection at an affordable price for back fit or new video detection installation. This means that a municipal department of transportation manager can replace older processing equipment in a cabinet while leaving existing cameras on the pole, saving thousands of dollars when upgrading to new equipment. A sophisticated algorithm lies behind the clean exterior of the rugged processor enclosure with small footprint.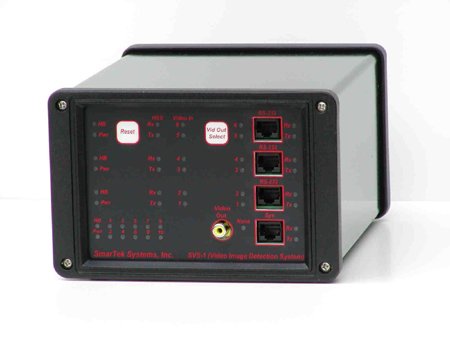 SVS-1 Video detection processor for stop line applications monitors up to six camera at intersection approaches
---
This system allows the user to cconfigure up to 6 off-the-shelf video cameras with up to 30 zones each. Each zone provides directional detection, activation delay and extension. The system allows the user to map the zones via Boolean logic to on-board or external opto-isolated relays. The SVS-1 can monitor the state of six isolated logic inputs. The user can verify setup of the individually addressable processor channels via front panel selection and video monitor output via video monitor, RS-232 interface, or Ethernet Connection. Connect to TS-1, TS-2, and 170/2070 card files.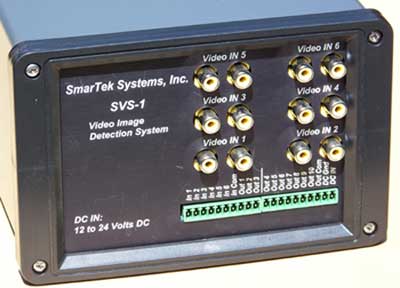 SVS-1 rear connections
---
SmarTek Systems, Inc. has a video solution to provide actuated intersection control at a fraction of the cost of replacing legacy loops or other video detector vendors.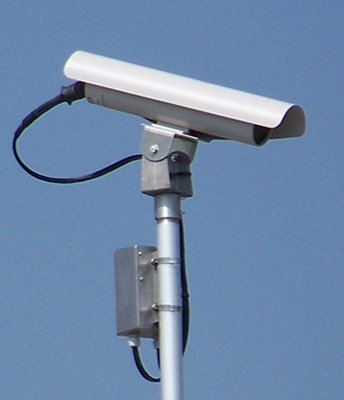 An SVS- Camera installed in Ashland, VA.
---
Non-Embedded SAS-1 Passive Acoustic Traffic Detector for Traffic Management and Intersection Control.
SmarTek Systems' Acoustic Sensor -Version 1 (SAS-1) is a non-contact, passive acoustic, multi-lane highway vehicle detection. The SAS-1's compact size and modest weight make installation easy for a single installer using a bucket truck on existing overhead or roadside structures such as light poles, sign bridges, and overpasses. Completely non-intrusive, it is an ideal replacement for failed loops or new construction projects requiring highway traffic information. The non-embedded sensor is designed to operate from a roadside position, eliminating lane closures for a typical installation. Design reliability for adverse highway environment minimizes or eliminates any periodic maintenance requirements.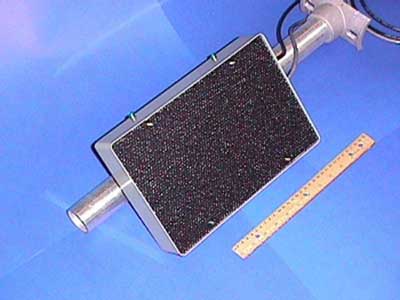 SAS-1 Non-Embedded Traffic Detector
---
As a passive sensor, SAS-1 requires very little power to operate. Coupled with a wireless "home run" option, this makes SAS-1 very suitable for autonomous installation and operation using small solar panels. The need for a wired "home run" cable, associated conduit, and installation labor is eliminated, making this an ideal vehicle detector for work zone monitoring or other remote applications.
The SAS-1 has several different interfaces depending on the communication link and the cabinet controller interface desired. The standard SAS-1output message provides traffic flow measurements of vehicle volume, lane occupancy, and average speed for each monitored zone (up to 5 zones or lanes) for a specified update period (1-Sec to 220 Sec) for ITS/Incident detection, freeway management, intersection advance or system detection from a side fire position. Traffic Managers depend on the SAS-1 for highway traffic flow monitoring, automated incident and congestion detection, ramp metering, work zone safety, and travel time predictions.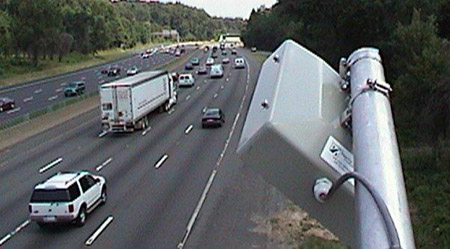 A typical SAS-1 ITS side-fire traffic monitoring application along the Beltway around Washington, D.C.
---
The true presence detection for intersections is the perfect complement to video detection 100 m ahead of the stop line. The SAS-1 relay option allows the device to be back fit into embedded loop-based traffic monitoring and intersection control systems using Type 2070/170, TS-1 or TS-2 standards. Several communications interface-, data storage-, and reporting options provide an excellent traffic monitoring and data collection system for real time monitoring, data collection and traffic planning using permanent or portable count sites.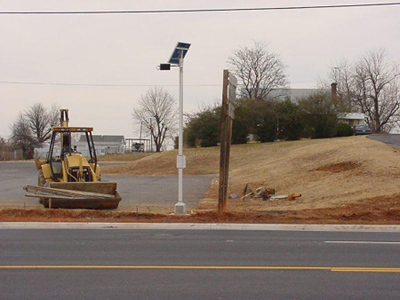 SAS-1 being installed as an advance detector for an intersection
---
Smart Roadside Cabinet Integration Tools.
SmarTek Systems understands integration issues associated with remote traffic monitoring. DS-1 Device Servers enable legacy devices to be connected via network interfaces. Our Cabinet WatchDog monitors voltage levels and switch states. It provides controlled cabinet resets or restart on time out.
Contact Details:
SmarTek Systems, Inc.
14710 Kogan Drive
Woodbridge, VA 22193


Greg Pieper
Ph. 410-315-9727
Fax. 410-384-9264


sales@smarteksys.com
www.smarteksystems.com
SmarTek Systems, Inc Map & Directions (click on marker for your personalized directions)
---
Have a comment about a Prince William County Story?

Do you have a comment or question about Prince William County, Virginia? If you submit it here, other visitors can read it; answer it; learn from it, or otherwise comment on it. An e-mail address is not required.

---
Ashley Furniture Home Store | Cardinal Management Group, Inc. | Coqui Group, LLC | DeGrasse Dance Studio | Dixie Bones Restaurant Information | Larry's Hair Designers, INC | Leesylvania State Park | Potomac Mills | Potomac Nationals | Woodbridge High School | Woodbridge Middle School |
---
From SmarTek Systems, Inc to Woodbridge | Prince William County Virginia Blog | Dale City | Dumfries | Gainesville | Lake Ridge | Manassas | Montclair Virginia | Occoquan | Quantico | Prince William County Schools | Prince William County Fire & Police | Prince William County Libraries | Prince William County Animal Services | Prince William County Doctors | Prince William County Dentists | Prince William County Lawyers | Prince William County Realtors | Prince William County Insurance Agents | Prince William County Financial Planner | Prince William County Nursing Homes | Prince William County Car Repair Shops | Prince William County Shopping | Prince William County Restaurants | Prince William County Entertainment | Prince William County Recreation | Prince William County Churches | Prince William County Commute | Prince William County Washington D.C. Trip | Top 10 Things to Do in Prince William County | Prince William County Forum | Prince William County Virginia News | Prince William County Questions |
---
Home Page

About Us | Contact Us | Site Search | Terms of Use |
---