Walgreens' Opens Third Manassas City Location with Commitment to Community
by Cathy Tarr
(Manassas)
Walgreens held a ribbon cutting ceremony on Jan. 27 at their new store, located at 10213 Dumfries Road, at the intersection of Dumfries and Wellington Roads in Manassas.


This is third opening of a Walgreens store within Manassas city limits, offering residents a third healthy and daily living destination that will help them live well, stay well and get well. Pharmacists will be available at the new location to provide counseling to patients and offer clinical services such as immunizations and health screenings.


"The initial responses we have received from neighboring residents have been very positive," said Cathy Tarr, Walgreens' Community Store Leader for the Manassas, Bristow, Gainesville and Centreville locations.

"As the Community Store Leader, I work with these store managers and pharmacists to identify local needs that we can support with a focus on health and wellness. Reaching out to our neighbors is what we do, whether it's setting up a flu clinic in a senior citizen center or offering a class on Controlling Your Diabetes."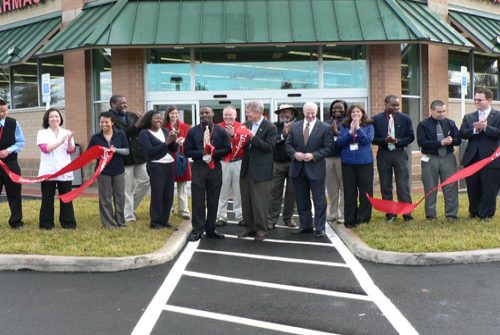 Among those in the community who attended, front and center in the ribbon cutting are, from left, Manassas City Neighborhood Services Manager Kisha Wilson-Sogunro; new Dumfries Road Walgreens Store Manager Danny Horton; Manassas City Mayor Harry J. "Hal" Parrish; Walgreens District Manager Rick Conner; and Walgreens Community Store Leader Cathy Tarr.
---
Since opening its first Manassas store in 2010, Walgreens has partnered with City of Manassas Neighborhood Services (providing first aid stations for 1 By Youth projects and 100 free flu shots for the uninsured at the Neighborhood Conference), The Woman's Club of Manassas (support for a women's shelter), Manassas Midwifery & Women's Health Center (support for underserved women and babies), the SERVE emergency shelter (donating surplus food and flu shots) and support for youth poster & essay contests sponsored by the Optimist International Club of Manassas and the Veterans of Foreign Wars Post 7589. Walgreens also works closely with military men and women by providing donations to the National Guard, Quantico, Fort Belvoir and VA hospitals in Washington, DC and Martinsburg, WV.
"Our executive management encourages us to be active in the community," said Tarr. "We like helping people with any health-related issue."
For more information, contact Cathy Tarr, Community Store Leader, Walgreens at 703-259-6200.