Lessons of the Battle of Bull Run

As most students know, one of the first significant major battles of the Civil War was fought at Manassas in Virginia. It consisted of a clash between two utterly green armies who were led by equally green officers who for the most part relied upon memories of past conflicts between the United States and Mexico when mapping strategies.
The First and Second Battles of Manassas - more popularly called the Battles of Bull Run - are just a few of the significant Civil War sites in this section of Virginia. A student of American History would benefit from visiting these locales. They can get a sense of what the nation's people were facing more than 150 years ago.

Today we have a tendency to look past the events of that period or romanticize them. But they were the opening phases of what would be the bloodiest war in the history of this nation. And one thing that stands out from the experience at Bull Run is the fact that every time the nation has gone to war it has had to relearn the fact that wars are much easier to start than to stop. And that they are rarely - if ever - short; they usually last until one of the protagonists is utterly destroyed or incapable of competing further.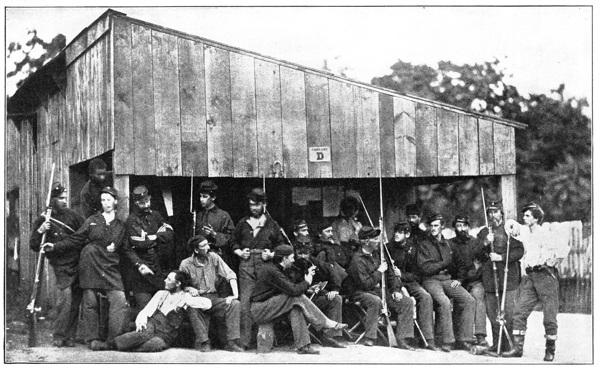 Battle of Manassas: Troops that fought at Bull Run. Source:
Elson (2)
---

That is what people on both sides learned at the First Battle of Bull Run. People dressed in their best clothes - the 19th century version of a wardrobe from Forever 21 - to journey gaily from Washington, DC and Richmond, VA to watch the battle. Their behavior was like that of fans who'd bought tickets to a rock concert with a Groupon. And they were surprised when they found themselves in the middle of a real conflict in which soldiers were killing one another.

Commanders who had learned theory and strategy from prior battles in settings that had no similarity whatever to what they encountered here were made aware that new techniques were needed. The lesson learned that day had to be relearned again by future generations, from the Argonne to Pearl Harbor to Vietnam and the Sinai Desert. Mankind always has to relearn the basic fact that war cannot be viewed in the same light as a sports contest.
Have a comment about a Prince William County Story?

Do you have a comment or question about Prince William County, Virginia? If you submit it here, other visitors can read it; answer it; learn from it, or otherwise comment on it. An e-mail address is not required.

From Lessons of the Battle of Bull Run to Manassas
---
Citys First Electric Car Rolls Out on the Streets | Sogunro Brings Manassas to the White House | Community partners supply weekend meal packs for MCPS students | Manassas Townhomes for Sale | Current Single Family Manassas VA Homes for Sale | Inexpensive Manassas Homes for Sale | Current Manassas Virginia Homes for Sale | Backpack Snack Attack in Manassas | Manassas To Receive Award For Neighborhood Revitalization | Montclair and Manassas Park Named to CNN/Money Magazine's 2011 | 'Manassas Got Talent' is June 10 | Manassas Youth Project | Apple Federal Credit Union | Childrens Farm | City Center of Manassas Park | Community Appearance Alliance Award | ECPI College of Technology & Medical Careers Institute School of Heath Science | Huge Georgetown South Community Service Project | Jewell Technical Consulting (JTC), Inc. | July 4th HMI City of Manassas | Kehoe Shares 'Midwives for Haiti' Trip with Doulas | Langston Law Firm | Manassas Battlefield Park | Manassas National Battlefield Park | Manassas Wins State Award | Old Dominion Speedway | Prince William County Fair |
---
Prince William County Virginia Blog | Dale City | Dumfries | Lake Ridge | Gainesville | Montclair Virginia | Occoquan | Quantico | Woodbridge | Prince William County Schools | Prince William County Fire & Police | Prince William County Libraries | Prince William County Animal Services | Prince William County Doctors | Prince William County Dentists | Prince William County Lawyers | Prince William County Realtors | Prince William County Insurance Agents | Prince William County Financial Planner | Prince William County Nursing Homes Prince William County Car Repair | Prince William County Shopping | Prince William County Restaurants | Prince William County Entertainment | Prince William County Recreation | Prince William County Churches | Prince William County Commute | Prince William County Washington D.C. | Top 10 Things to Do in Prince William County | Prince William County Forum | Prince William County Virginia News | Prince William County Questions |
---
Home Page

About Us | Contact Us | Advertise | Site Search | Terms of Use |
---