Haymarket Author Debuts
'Wasps in the Bedroom, Butter in the Well' at Arts Alive!

Haymarket author June Pair Kilpatrick is celebrating her 80th birthday this spring with the best present ever – the debut of her first published book.
"Now my granddaughter, who wants to show the book to her classmates, can do that before she graduates from high school," she smiles.

June is the author of "Wasps in the Bedroom, Butter in the Well: Growing Up in the Great Depression," (Inkwater Press, Portland, Oregon). The book is available in print, 318 pages with 40 photographs, $16.95 or Kindle eBook, $5.99, through Inkwater Press, Amazon.com or BarnesandNoble.com.

A lifelong Virginian who earned a bachelor's degree in English from the University of Richmond's Westhampton College, June spent much of her career as a writer and editor for nonprofits in Richmond and Northern Virginia. For eight years she was consulting writer for the Business Council, a Washington, DC-based association of 150 CEOs of the world's top business enterprises. Historically, the Council assisted in the nation's recovery from the Great Depression.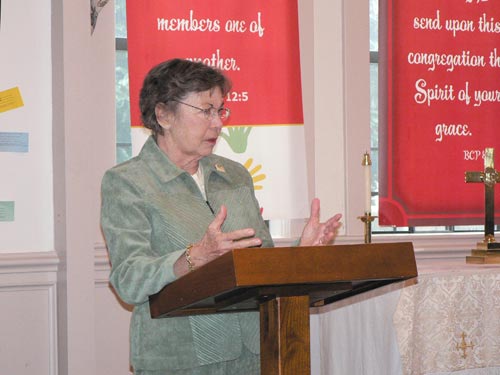 Haymarket author June Pair Kilpatrick
---

But it wasn't until after June and her husband Fritz retired to the Evergreen Farm community at the foot of Bull Run Mountain that she began to think of writing her own family's Depression-era experiences. In 1934, living in the industrial town of Hopewell, Virginia, her parents lost everything when unionizers caused a violent confrontation at the rayon mill. After a night raid that destroyed the machinery, 1,858 jobs were gone.
"We moved from house to house and town to town, out in the country where we lit lamps with matches and used an outhouse," June recalls.
"We had a roof over our heads, unlike many, but one of my vivid memories of childhood was the wasps that squeezed in through the gaps in the siding… and sometimes, the butter had to be kept cold in a bucket dropped in the well."

Two years ago, June took her manuscript to the Memoir Writers group at Bull Run Regional Library for feedback and support. Over time, they quelled her doubts:
"And so as I write…a question occurs to me: Who but my daughter, Rebecca, would be interested in my ordinary life?...in Granny June Bug's early life?...most likely my story, my memories, will be only for myself."

On Sunday, May 6, June Kilpatrick debuts her book in a big way at Arts Alive! 2012, a free, family-friendly, festival celebrating the local arts from noon to 6 p.m. at the Hylton Performing Arts Center on the Prince William Campus of George Mason University in Manassas. The event, presented by the Hylton Center and the Prince William County Arts Council, features 18 live performances on three stages, indoors and out, with visual art on display and for sale, as well as presentation of the 2012 Kathleen K. Seefeldt Awards for Arts Excellence at 2:30 p.m. Event sponsors include United Bank and Discover Prince William & Manassas. A complete schedule of performers is at www.pwcartscouncil.org.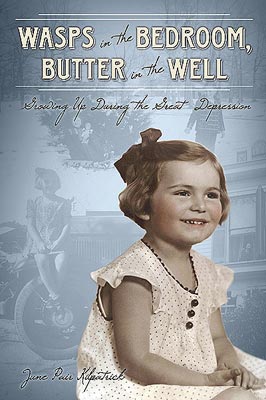 June Kilpatrick's Book
---

There, June will join seven other local members of the Facebook networking group, Write by the Rails, in the Lovey Hammel Lounge: Dan Verner, Sheila Lamb and Cindy Brookshire of Manassas, Katherine Gotthardt and Carol Covin of Bristow and Marvin Josaitis and Leigh Giza of Gainesville. Besides readings and book signings, event-goers are welcome to participate in writing exercises and bring their own poetry and prose to share at open mic times throughout the afternoon.

To read an excerpt of June's book, go to http://inkwaterbooks.com/waspsinthebedroombutterinthewell
Have a comment about a Prince William County Story?

Do you have a comment or question about Prince William County, Virginia? If you submit it here, other visitors can read it; answer it; learn from it, or otherwise comment on it. An e-mail address is not required.

---
Gainesville District Volunteer Fire Department | Gainesville Middle School | Gainesville Neighborhood Library | Gainesville VA Single Family Homes For Sale | Current Gainesville VA Homes for Sale | Low-Priced Gainesville, VA Homes for Sale
---
From Haymarket Author Debuts to Gainesville | Prince William County Virginia Blog | Dale City | Dumfries | Lake Ridge | Manassas | Montclair Virginia | Occoquan | Quantico | Woodbridge | Prince William County Schools | Prince William County Fire & Police | Prince William County Libraries | Prince William County Animal Services | Prince William County Doctors | Prince William County Dentists | Prince William County Lawyers | Prince William County Realtors | Prince William County Insurance Agents | Prince William County Nursing Homes | Prince William County Car Repair Shops | Prince William County Shopping | Prince William County Restaurants | Prince William County Entertainment | Prince William County Recreation | Prince William County Churches | Prince William County Commute | Prince William County Washington D.C. Trip | Top 10 Things to Do in Prince William County | Prince William County Forum | Prince William County Virginia News | Prince William County Questions |
---
Home Page

About Us | Contact Us | Site Search | Terms of Use |
---