Blue Ridge Assistance Dogs seeks new board members
by Cheryl Tipton
(Manassas, VA)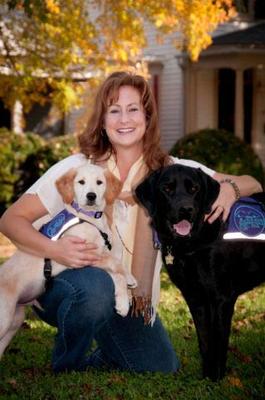 Cheryl Tipton, here with Cezanne (yellow Labrador/Golden Retriever mix) and Padriag (black Labrador), trains service dogs for Blue Ridge Assistance Dogs.
Blue Ridge Assistance Dogs (BRAD) is looking to expand its board of directors. Over the years you have probably seen BRAD dogs training in and around Trinity Episcopal Church. We provide service dogs to people with physical and emotional needs including serving veterans with post traumatic stress disorder(PTSD).


We would like you to come and find out about our organization and see if you might be able to help by joining our board. Our executive director Lydia Wade and one of our dogs will demonstrate their amazing abilities. Board member David Foster will talk about our 2013 business plan and board president Stuart Schadt promises to keep the meeting short.


Please join us on Tuesday, September 11 at 7:00 p.m. in the Parish Hall at Trinity Episcopal Church, 9325 West Street, Manassas. For more information, visit our website at http://www.blueridgeassistancedogs.com or join us on Facebook.
Join in and write your own page! It's easy to do. How? Simply click here to return to Comments.